socastcmsRssStartnews.sky.comsocastcmsRssEnd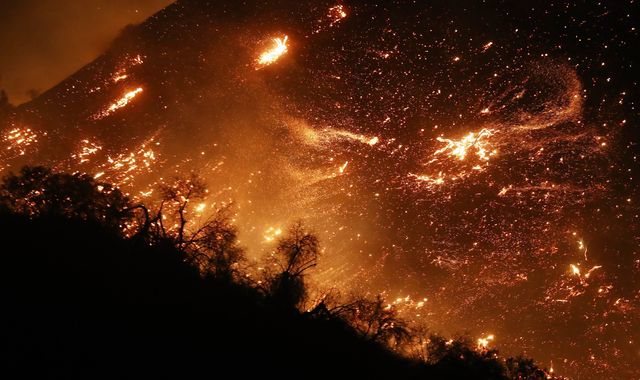 Paris Hilton, Chelsea Handler and Chrissy Teigen told of their fear as they evacuated their multi-million dollar luxury homes.
Hundreds of buildings have already been destroyed.
Hilton wrote on Twitter: "This wildfire in LA is terrifying! My house is now being evacuated to get all of my pets out of there safely.
"Thank you to all the firefighters who are risking their lives to save ours. You are true heroes!"
Singer Lana Del Ray tweeted that "ash is falling on my car" and comedian Handler wrote: "It's like Donald Trump is setting the world on fire. Literally and figuratively. Stay safe everyone. Dark times."
Firefighters are warning they cannot contain the spread of fires in the Los Angeles neighbourhood of Bel Air, an area popular with celebrities.
Teams made up of more than 1,000 firefighters are attempting, seemingly in vain, to contain the fires igniting across the region.
The flames are sweeping down the foothills of the Santa Monica Mountains.
Los Angeles Mayor Eric Garcetti said the blazes had spread across 150 acres with "zero containment" by 10am (6pm GMT).
Police were forced to shut down nine miles of the Interstate 405 freeway, one of the busiest in the US, early on Wednesday morning.
Motorists described seeing the mountainside near Bel Air glowing and an orange fireball burning its way through the drought-ridden terrain.
The blaze has been dubbed the Skirball fire as it is right next to the Skirball Cultural Center, as well as the acclaimed Getty Center museum.
:: Westworld and S.W.A.T. halt production amid California wildfires
One of the fires has reached an estate and winery owned by media mogul Rupert Murdoch, and stars including Gwyneth Paltrow, Kim Kardashian and Cher have been offering their prayers and thanks to firefighters.
Model Teigen said: "Never though I'd get to actually play what I thought was a hypothetical game of 'what would you grab?' if there were a fire.
"So far all I have is (daughter) Luna, some limited edition Oreos and my Spike TV award."
Several other fires are raging across southern California, with the Skirball the latest to ignite due to 50mph wind gusts – which are set to increase to 70mph on Thursday.
The strong winds have prevented planes and helicopters operating as it is too dangerous to fly.
The largest blaze is the Thomas fire in Ventura County, just north of LA, which has devastated 65,000 acres and forced 27,000 people to flee after igniting on Monday evening.
Mark Lorenzen, Ventura County fire chief, said: "The prospects for containment are not good.
"Really, Mother Nature's going to decide when we have the ability to put it out."
Hundreds of homes have been destroyed and a further 12,000 buildings and structures are threatened by Thomas alone, officials said.
More than 1,000 firefighters are trying to battle the blaze but cannot enter the area "due to the intensity of the fire", county officials said.
The Creek fire, north of downtown LA, had destroyed 11,000 acres by Tuesday night, while the Rye fire devastated 7,000 acres by Monday morning.
California Governor Jerry Brown declared a state of emergency in the area on Tuesday.
He said: "This fire is very dangerous and spreading rapidly.
"It's critical residents stay ready and evacuate immediately if told to do so."
US President Donald Trump tweeted his "thoughts and prayers" to California.
He said: "Our thoughts and prayers are with everyone in the path of California's wildfires.
"I encourage everyone to heed the advice and orders of local and state officials.
"THANK YOU to all First Responders for your incredible work!"
In October, wildfires raged through California's wine country, destroying 27 wineries in the famous wine producing counties of Sonoma and Napa.
A total of 44 people were killed, some 106,000 people were evacuated and 110,720 acres were devastated by the fires.
Insurance claims for the October fires have reached more than $9 billion (£6.7bn), the state's top insurance regulator said.