socastcmsRssStartnews.sky.comsocastcmsRssEnd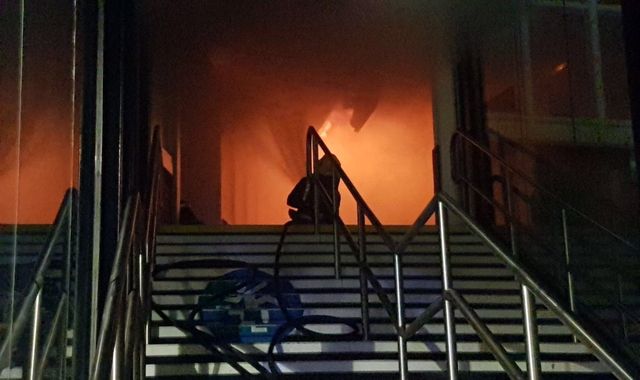 Around 60 firefighters tackled the blaze, which started at 6.30am on Friday in a public toilet before spreading to the roof of the station.
It is now out, the Nottingham Fire Service has said.
Crews were still at the scene by late afternoon, and a joint investigation by Nottinghamshire fire and rescue and British transport police is ongoing.
"Enquiries have been ongoing today and we now have reason to believe the fire may have been started deliberately," superintendent Sandra England said.
"Officers are working to identify anyone who may have been involved in the incident, and we are appealing for information from members of the public."
No-one is believed to have been hurt as a result of the fire, but it caused major transport disruption, closing the the station and forcing delays and cancellations across the line.
"Cordons remain in place around the area and trains are not running," supt England said. "It is likely the station will remain closed for the rest of the day."
In a video posted on Twitter, incident commander Bryn Coleman said crews had been "offensively firefighting" using breathing apparatus, with firefighters in "some real severe conditions in terms of heat and smoke".
Mr Coleman added that the flames were in the walkways between new and old sections of the station.
Speaking later to Sky News, he said the main area of operation was an "old bridge that's going across platforms six and seven", with fires still burning "in that void area".
Fire officer John Mills told the Nottingham Post that it was the worst blaze firefighters had seen for 20 years.
"This is about complexity rather than the size of the fire," he said. "People driving through the main roads in the city will barely see any smoke.
"That is because the fire is burning continuously through voids, which puts it out of sight and makes it incredibly difficult for us to locate."
More follows…