socastcmsRssStartnews.sky.comsocastcmsRssEnd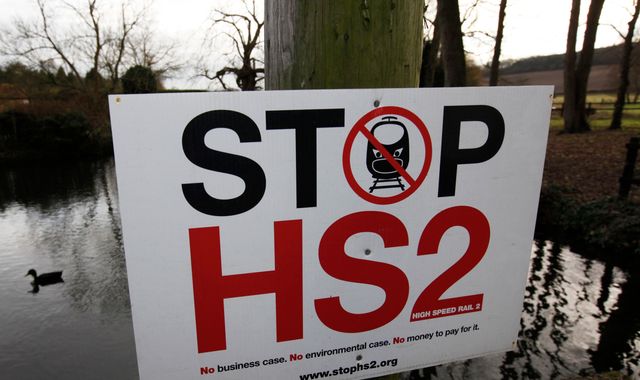 The troubled firm's chief executive quit, while the share price plunged.
Other companies awarded contracts to design and construct bridges, tunnels, embankments and viaducts include Skanska Construction UK Ltd, Costain Ltd, and Balfour Beatty Group Ltd.
Nine bids were shortlisted for the project's major contracts – work totalling around £6.6bn and estimated to support 16,000 jobs.
Transport Secretary Chris Grayling defended the choice of Carillion, telling Sky News: "They're part of a consortium – they're not alone in the contracts, and we've had secure undertakings from all the members of the consortium that they will deliver that contract.
"So it's not where one businesses has to deliver, it's a group of businesses that have to deliver, and they've all committed to doing so."
Mr Grayling added: "My wish as that Carillion get through their current problems, but we've made sure that it's not an issue for these contracts."
The route of the Manchester and Leeds section of HS2 will also be announced this morning.
In November last year, ministers said the line should serve the existing central station in Sheffield, after proposals to run trains to the Meadowhall shopping centre were set aside.
But this could see new homes in nearby Mexborough being pulled down, with many of the estate's residents finding out about the possibility just weeks after moving in.
The first phase of the project – between London and Birmingham and from Birmingham along the existing West Coast Main Line – was given the go-ahead in February and is due to open in December 2026.
A bill will be published shortly covering phase 2a – from the West Midlands to Crewe, expected to open the following year – while phase 2b from Crewe on to Manchester begins in 2033.
Transport Secretary Chris Grayling said: "As well as providing desperately needed new seats and better connecting our major cities, HS2 will help re-balance our economy."
But Joe Rukin of the Stop HS2 campaign said: "The case for HS2 has been invented by the very cheerleaders who intend to rake in billions of taxpayers' money which is desperately needed elsewhere, so it really is time to ditch this gigantic white elephant before it is too late."
The news comes after The Sunday Times published an interview with rail expert Michael Byng, who estimated that HS2 would cost more than £400m per mile, making it the world's most expensive railway.
This would see the project cost up to £104bn – almost double the £55.7bn estimated by the Government.
A Department for Transport spokesman said Mr Byng's claims were "incorrect", adding: "We are keeping a tough grip on costs and the project is on time and on budget at £55.7bn."